To hug or not to hug?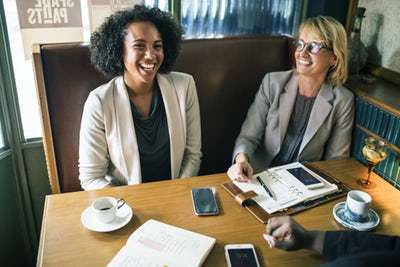 Do you remember your first hug? Probably not if you snuggled naturally into a family of huggers. But if you struggled and strained to escape from the loving arms of family members, or you were born into a non-hugging family, you probably have vivid early memories of hug-anxiety. For some, hugging is second nature; others learn to like hugging; and still others never get over the discomfort, especially when it comes to hugging at work. I'd like to propose that there are many ways of hugging that don't require throwing our arms around each other. It's simply a matter of finding our personal comfort and cultural fit.
Possibilities for hugging in the workplace became clear to me as I watched ACG Denver's Corporate Growth Awards at the Rocky Mountain Corporate Growth Conference this spring. Juxtaposed, it was easy to see that this year's two winning companies, New Belgium Brewing and Weifield Group, have nearly opposite cultures, including how they handle hugging. And yet each is highly successful and has received similar awards for numerous aspects of their culture, including innovation, environmental stewardship, and being a "best" or "top" place to work.
New Belgium's culture was built around love and hugging. When Kim Jordan, co-founder and longtime CEO, sold the company via an ESOP, she announced the sale by placing an envelope containing a mirror on each employee's seat. She asked them to open the envelopes and look in the mirrors to see the new owners (and perhaps give themselves a congratulatory hug). Current CEO and President, Christine Perich continues the tradition of being outwardly emotional by warning: "Are you ready? I'm comin' in!" when she's about to hug somebody. New Belgium's core values include committing to authentic relationships and communications, as well as having fun. Obviously, these values are driven from the top and reflect their total comfort with physical and emotional expressions of their values and regard for one another.
On the other hand, Weifield, led by Partner Karla Nugent, is not what you would call a "hugging" culture—that is if you're picturing wrapping arms around each other. At Weifield, they hug in their own way, reflecting an equally meaningful set of values. In addition to excellence in all things, "bettering individuals" is a big part of their culture. The company provides a wide range of opportunities for employees to make the world a better place. In addition to encouraging employees to volunteer out in the community, Weifield hires people from disadvantaged backgrounds and provides them with education and/or training as well as work. And this is just one example of their extensive community outreach. The privilege of making a difference in the lives of others brings pride, satisfaction and accomplishment to the giver. That certainly feels like a great big hug to me! At Weifield, they don't need to get physical to feel good about themselves.
Hugging makes us more human
Some of us reach out naturally to hug colleagues, friends or family for almost any reason. Others loathe a physical hug and avoid getting in the range of a hugger. But that doesn't mean they don't like other kinds of hugs. Hugging, in whatever form, is what makes us human—and more than that, it helps us create healthy minds and relationships that affect how successful we are in our careers and, in turn, how successful our companies are. In a recent Huffington Post article, Deputy Healthy Living Editor, Lindsay Holmes, gives several reasons for hugging.
Hugging:
Makes us feel good by triggering oxytocin, "the cuddle hormone"
Connects us
Increases understanding and empathy
Reduces blood pressure
Lessens fears
Benefits heart health
Decreases loneliness
Relieves stress
My point is that every organization, for its own benefit and that of its employees, should find an authentic way of creating a hugging culture. There's no right answer to whether or not traditional hugging in your workplace is appropriate. If hugging isn't welcome in your culture or by some individuals, find another way to show you care. Get physical with an extra-firm handshake and big smile, a clap on the shoulder, or a high five—all ways to simulate a hug without the risk of overstepping. Or, create the feeling of being hugged by integrating community projects into your mission as Weifield does, or in whatever way fits with your culture or specific individuals. Focus on who you are as an organization rather than on what you do.
No culture can or should be a carbon copy of another. However you hug, define it in a way that's right for your business and people. If you're newly open to hugs, you might feel an inkling of something different, and maybe even learn to like it. At the very least, a good hug of any sort brightens everyone's day—both hugger and hugged.