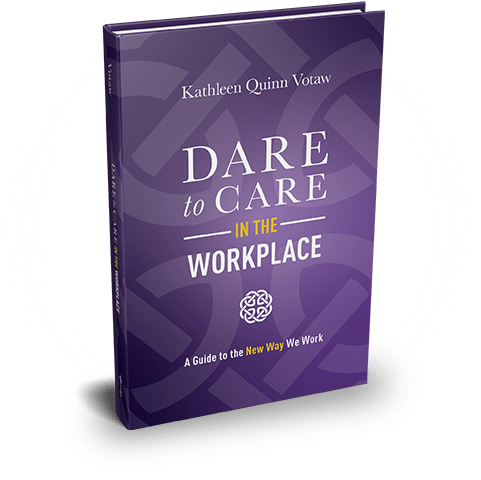 Our Book
Dare to Care in the Workplace
It's time to Dare to Care in the Workplace
When you build your business relationships on a foundation of kindness and love, all else follows. In Dare to Care, Kathleen Quinn Votaw teaches business leaders how to put people first by focusing on the employee experience as much as they focus on the customer experience to find the sweet spot of success. In this book, she helps employers and employees navigate the new way to work—from home, or anywhere, together.
Reviews
"In Dare to Care in the Workplace, Kathleen Quinn Votaw serves as your guide to navigate uncertainty and continuous change. Amidst all of the chaos, leaders who rely on guiding principles while committing to respecting the individual can look ahead and see a year Filled with ongoing learning, improved collaboration, better results, and even the potential of reaching the Camelot Community!"
— Sam Reese, CEO, Vistage Worldwide, Inc.
"Once again, Kathleen nails the current realities of work with forthright, heart-centered wisdom. Leaders who pay attention to the new expectations for purpose, trust, and caring in our workplaces will have the edge as we face a renewed war for talent in the post-pandemic era. Kathleen provides a simple guide to helping those leaders get there."
— Lori Gillen Frasier, Chief Human Resources Officer, CPI Card Group
Download a Free Chapter
Enter your information to receive your free
preview of "Dare to Care in the Workplace.