Our experienced and talented team creates customer intimacy and retention – this incredible team uses a proven recruiting process we have honed for 16+ years.

We are cost effective, affordable, and cash-flow friendly

Our brand promise protects your investment with 12 month retention guarantees unheard of in our industry

Our expertise and process delivers exceptional results
TalenTrust was founded in 2003 on a mission to disrupt and modernize the stagnant, transaction-based, and less-than-people-oriented recruitment industry. Based on our belief that putting people first and building relationships is a viable and strategic business model, we discovered that you can be kind and high performing at the same time. We've experimented, innovated, tested, lived, and developed expert and affordable processes and practices that we've shared with our fellow high-growth clients across the country. The result has been unimagined opportunity and growth—and an amazing story we're proud to tell.
We do the right thing, even when it's hard. We are honest, transparent and act with integrity. We treat everyone we serve with respect and dignity. We are passionate and seek excellence in all that we do. We are naturally curious and challenge the status quo.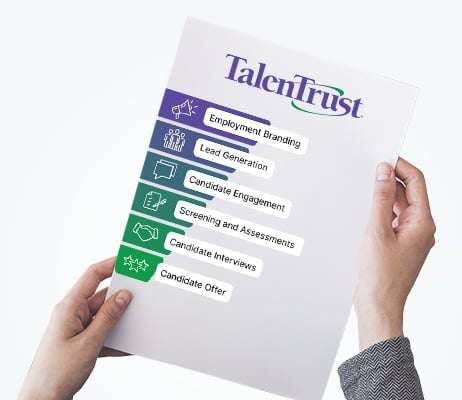 WHY WE STAND APART
Our Recruiting Process
We are not your typical recruiter! We view recruiting as a sales process. Using our proven, holistic, and personal approach, we build you a pipeline of highly qualified candidates with the right culture.
Client Reviews
Exceptional Service!
I would recommend TalenTrust to other business leaders. They can augment your current HR team in a variety of ways – from recruiting to data analysis and insight on key talent and culture trends. TalenTrust is a valuable strategic partner.
Teresa Charles VP Human Resources, APR
Broader Spectrum
Our partnership with TalenTrust gives SGM the ability to reach a broader spectrum of potential candidates, particularly those that might not be actively looking to change jobs but might consider an opportunity when they hear about it.
Matt Webster, COO, SGM Engineering
Extension of our Team
The results of our partnership have been very positive. TalenTrust serves over 30 different hiring managers and the team has become experts on who we are, what our company does, and who will be successful in these critical roles. TalenTrust is truly an extension of our team.
Ted Krakantas, CFO, Bossard
Learn More About TalenTrust