RESOURCES
Sharing Expertise from the Cutting Edge
Because we closely watch recruiting trends, are innovators in our industry, and are on the ground every day helping companies solve their people puzzles, we have valuable information and resources to share with you about recruiting and retention. Knowledge is the key to finding and keeping the best people to grow your company—and our goal is to help you do it.
We invite you to explore a range of educational information in our continually growing library of podcasts, webinars, and videos; client success stories; monthly blogs; and tools. Keep track of what's happening at TalenTrust and events where we'll be around the country. Please stop by and say hello.
Podcasts, Webinars, and Videos
WE'RE ONLINE FOR YOU EVERYWHERE AND ANYTIME
Recruitment is constantly changing and you can rely on TalenTrust to keep you updated on the latest trends and best practices. Visit this page frequently for new information.
---

Blog
Kathleen Quinn Votaw joins The State of Wages and Employment Webinar
TalenTrust Founder and CEO Kathleen Quinn Votaw, joined Optimize for a webinar, "The State of Wages and Employment" on November 4th 2022 at 12:00 pm MST. This 45-minute, free webinar focused on the volatile environment that business owners are operating...
Learn More
Client Success Stories
HOW WE HELP—IN THEIR WORDS
There's a lot we can share about TalenTrust and our services, but the deepest understanding of what it's like to work with us comes directly from our client experiences—in their own words. We share their stories with the hope that you can learn more about us and perhaps apply their solutions in your own situation.
---

Healthcare, Client Success Stories
Ascent Living Communities Success Story
Overview Ascent Living Communities is a senior living management company with five properties throughout Colorado that encompass the entire spectrum of the continuum of senior living, including Independent Living, Assisted Living, and Memory Care.
Learn More
Educational Resources
EDUCATIONAL MONTHLY ARTICLES YOU WON'T WANT TO MISS
TalenTrust Founder and CEO, Kathleen Quinn Votaw's monthly blog offers insight, perspective, and heart on diverse topics about virtually everything related to recruitment, retention, and culture. Get informed, be surprised, and apply her wisdom to your business or your life. Look for her blogs in our monthly newsletter and in ColoradoBiz magazine, with current and back issues on our website.
---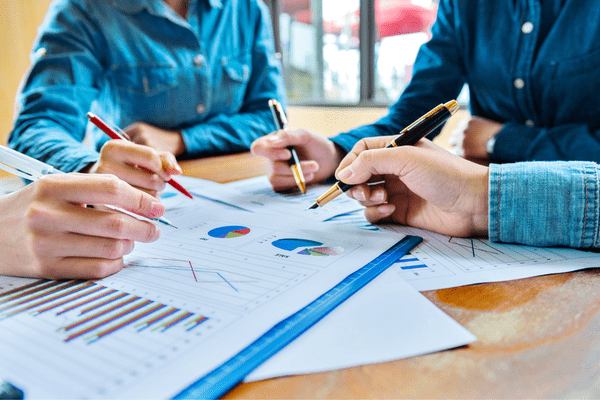 Blog
Thinking Short-term is Being Short-sighted
Kathleen Quinn Votaw & ITR Economics The quest for immediate profits and quick payouts over the past couple of decades is neither the right nor the most profitable way to operate a business. "Short-termism" runs counter to business sustainability and employee......
Learn More
News and Events
INTERESTING THINGS HAPPEN AS WE MOVE UP AND AROUND
TalenTrust makes frequent headlines, earning recognition for our strong growth and innovation; and we love to meet people around the country and share stories as we participate in events. Keep up with all that's happening with our news and events schedule here.
---

News & Events
TalenTrust Named a Top 100 Women Owned Business in Colorado
TalenTrust has been named a Top Woman-Owned Company by ColoradoBiz Magazine, for the 10th consecutive year in 2023. This year, TalenTrust received a ranking of 70th.
Learn More
Recruitment Tools and Education
ACTION-ORIENTED TO ENHANCE YOUR MOST VALUABLE ASSET: PEOPLE
TalenTrust developed these resources to deliver valuable, action-oriented education and tools that help you find, keep, and grow your most valuable asset, your people. Many of these tools are complimentary. You may be comfortable using these tools on your own, but if you would like additional information or insight, or have questions, help is available at no cost.
Interested in a free 30-minute consultation? Connect with Erin Dougan, TalenTrust's VP of Client Engagement
---

Tools
Talent & Culture Report Card
Your company's ability to find and keep people depends on a number of interrelated factors. Recruiting tactics is just one of them. Take our brief quiz to identify the strengths and opportunities in your human capital strategy and the gaps in your talent and culture strategies.
Learn More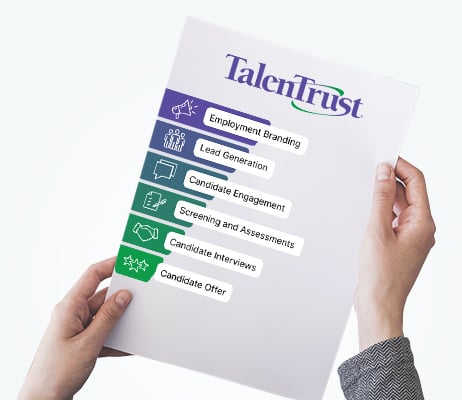 WHY WE STAND APART
Our Recruiting Process
We are not your typical recruiter! We view recruiting as a sales process. Using our proven, holistic, and personal approach, we build you a pipeline of highly qualified candidates with the right culture.