A Turnkey Solution to Increase Flexibility and Reduce Business Risk
The definition of "your people" has changed and so have your recruiting options.
Increasingly, companies are finding business success is better achieved with a combination of full-time permanent positions plus the temporary support of nonemployees hired on an as-needed basis. These can be in the form of independent contractors, freelancers, part-time workers, temporary or on-call workers, interns, and any other type of work arrangement that fits the situation. By rethinking people strategies, your company gains more flexibility and freedom in recruiting, and at the same time provides more of the work-life balance and independence today's employees want and need.
Benefits of Contract Staffing
Your people are your greatest assets, and the people you hire create and manage all of your other assets. Thinking about it in this way, who can argue that there is anything more important to your business than who you hire? Hiring decisions and talent planning should be based on predictive assessments that give you valid, accurate, and reliable data—not on guesswork.
Assessments help you understand people's abilities, motivations, interests, and personality, enabling you to predict an individual's future behavior. This insight can help you determine if top candidates are the best fit as well as evaluate your current team for succession planning.
Whatever combination of assessments you use, be sure that you create a positive experience for your candidates. Assessments should be well-designed; instructions should be clear; candidates' time and effort should be acknowledged and appreciated.
---

Alleviates burnout and avoids layoffs of regular staff

Meets fluctuating labor demands for seasonal work and project-based assignments

Solves the need to fill new critical positions quickly and cost effectively

Reduces recruiting, fixed payroll costs, and overhead

Provides a trial period before making long-term commitments

Limits the risk of exposure to workers comp and insurance claims and associated fines and taxes
Contract Staffing Resources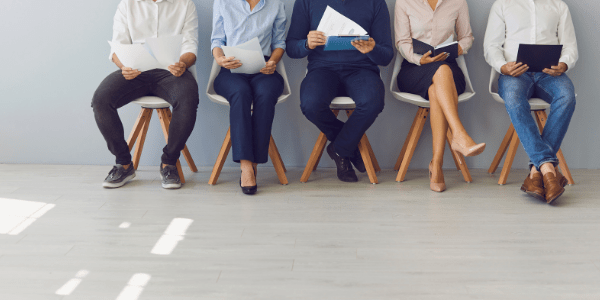 Blog | January 24, 2023
Recruitment is a Sales Process Step #1: Finding Quality Candidates
Recruitment is a priority equal to all your other top business priorities. Like them, it requires a strategy. For years, we've advised companies that they should think of recruitment as a sales process. For most leaders, that takes a different mindset. In......
Learn More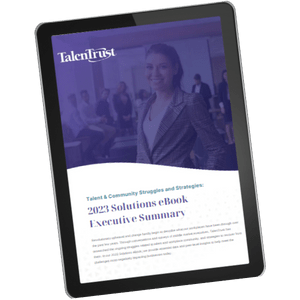 DOWNLOAD OUR EBOOK
Talent and Community Struggles and Strategies
Revolutionary upheaval and change hardly begin to describe what our workplaces have been through over the past few years. Through over 2,000 conversations and surveys of middle market executives, TalenTrust has researched the ongoing struggles related to talent and workplace community, and strategies to recover from them. In our 2023 Solutions eBook, we provide essential data and peer-level insights to help meet the challenges most negatively impacting businesses today. Download our 2023 solutions eBook to read more about the areas of struggle your business is facing and strategies to overcome them.

Give us a call:
303-747-6657