We Love Sharing Our Resources with You!
We're on the cutting edge of everything related to recruiting and retention—taking in trends and practices, innovating, testing, and proudly sharing valuable resources that help you find and keep the best people to grow your company. Try them, they're free! You may be fine using these tools on your own, but if you have questions, help is also available for free.
Free Consultation
If you'd like additional information or insight, Erin Dougan, TalenTrust's VP of Client Engagement, would be happy to schedule a 30-minute consultation with you. Reach out and connect!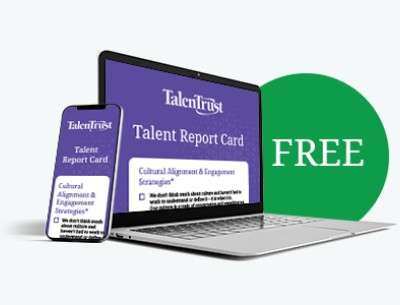 Get Your Free Talent & Culture Report Card
Your company's ability to find and keep people depends on a number of interrelated factors. Recruiting tactics is just one of them. Take our brief quiz to identify the strengths and opportunities in your human capital strategy and the gaps in your talent and culture strategies. Download your complimentary report card.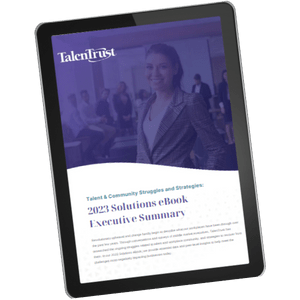 EBOOK
Talent and Community Struggles and Strategies
Revolutionary upheaval and change hardly begin to describe what our workplaces have been through over the past few years. Through over 2,000 conversations and surveys of middle market executives, TalenTrust has researched the ongoing struggles related to talent and workplace community, and strategies to recover from them. In our 2023 Solutions eBook, we provide essential data and peer-level insights to help meet the challenges most negatively impacting businesses today. Download our 2023 solutions eBook to read more about the areas of struggle your business is facing and strategies to overcome them.
white paper
The Hybrid Gap: Create the Ideal Work Environment
There is a great divide between employers and employees, who have differing opinions on the value of remote work. Our resource focuses less on whether companies should be hybrid, and more on how to create the ideal work environment.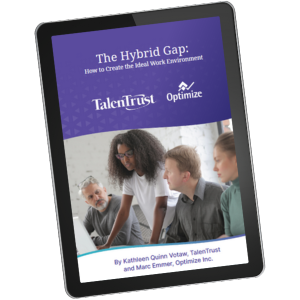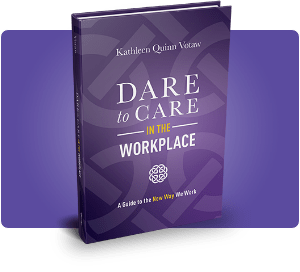 Dare to Care in the Workplace:
A guide to the new way we work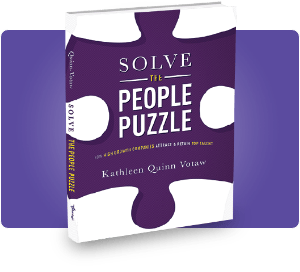 Solve the People Puzzle:
How high growth companies attract and retain top talent
Additional Recruitment Tools and Resources

Accuracy in Hiring
We recommend the use of a validated, predictive assessment within the interview & candidate selection process that helps you identify and quantify candidate personality traits that impact job fit

Cultural Alignment
Defining your culture, measuring it, and finding where and how it may be misaligned helps manage your employee experience and your brand—both of which are critical aspects of attracting and retaining top people.

Effective Onboarding
We examine the four building blocks of successful onboarding that can give you a competitive advantage and help make a candidate more comfortable with the decision to accept your offer—and likely stay with you longer.

Interview Best Practices
Competency-based behavioral interviewing focuses on the skills/abilities related to success on the job with questions related to past performance.

Interview Questions
This extensive list of additional behavioral interview questions covers virtually every topic you might want to cover in a candidate interview.
Schedule a Free 30 Minute Consultation
Interested in a free 30 minute consultation?
Connect with Erin Dougan, TalenTrust's VP of Client Engagement