Frequently Asked Questions
For Employers
What services do you offer?


TalenTrust specializes in recruitment solutions that include: Strategic Recruiting, Contract Staffing, and Talent Acquisition Strategy & Design Implementation.



What is Strategic Recruiting?

Strategic recruiting is a marketing process that incorporates multiple tactics to ensure you compete successfully for your most important asset, your people. Here's what's included in our Strategic Recruiting offering!



What are your consulting services?

Our consulting and retention services offer your business the opportunity to audit your processes related to talent acquisition, employee experience, and company culture for an unbiased, constructive, and positive path forward.

Where are you located?

TalenTrust is headquarted in Denver, Colorado; however, we are a fully remote company and work nationwide!



Do you staff remote/off-site jobs?

We sure do! TalenTrust firmly supports flexible work environments that meet our clients' and their employees' needs.



What industries do you serve?

Our clients span a variety of industries, including:

Construction
Engineering
Healthcare
Manufacturing
Sales
Corporate
Government

Don't see your industry? No problem! Let's chat about how we can help you.
Can you help me transition my on-site employees to remote work?

Absolutely! TalenTrust Founder and CEO, Kathleen Quinn Votaw, is also a two time author and public speaker! Kathleen can help you tackle your talent challenges head-on, by addressing key drivers that can transform your workplace culture. Her tailored talks can inspire your entire organization.



Do you offer a skills assessment?

At TalenTrust, we offer our clients access to Prevue Assessments for their current and future employees, because your people are your greatest assets.

Hiring decisions and talent planning should be based on predictive assessments that give you valid, accurate, and reliable data—not on guesswork.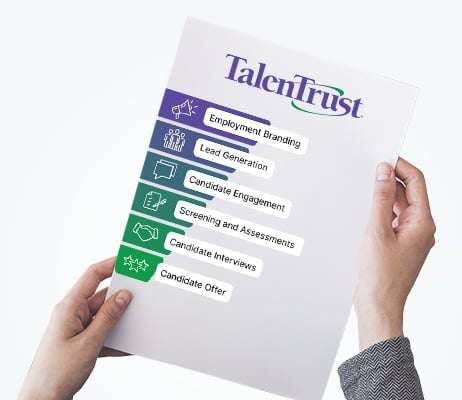 Why we stand apart
Our Recruiting Process
We are not your typical recruiter! We view recruiting as a sales process. Using our proven, holistic, and personal approach, we build you a pipeline of highly qualified candidates with the right culture.