Embrace AI But Don't Replace Humanity in Recruiting
There's probably not a single person in this country who hasn't been caught in endless circles of frustration and stress trying to resolve big and small problems through bots. AI has arrived and it's everywhere, including in recruitment. Employers need to find ways to achieve the benefits of humans and machines working together and make certain people feel the humanity behind the processes. AI is a tool, not the toolbox.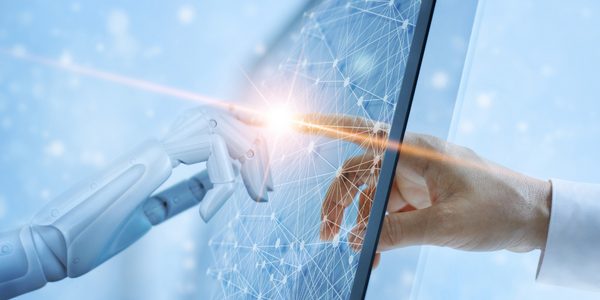 AI streamlines the hiring process for employers and candidates alike. Among other benefits, it helps candidates optimize their resumes and other documentation and saves them from hours of repetitively filling out applications—which often end up in black holes with no hope of a response.
By automating tedious manual tasks and much of the pre-selection process, AI boosts recruiters' productivity and efficiency, decreases time to hire, and reduces costs. When humanity enhances, rather than replaces automation, the savings in time and money free recruiters to personally respond to candidates at key points.
You cannot ignore AI. It's here, it's important, and it's hot. Think additive, not replacement. Embrace the technology and preserve the critical human element that fosters connection and makes your company unique. Humans prefer working with humans and we can feel the difference when there's a person in charge.
A new order of business and society
Bursting on the landscape in 2022, in this short space of time employers in every industry and of every size, from multi-nationals to small businesses, have embraced AI. SHRM reports that 79 percent of employers are currently using AI or another form of automation for recruiting and hiring. Those that haven't yet adopted AI are planning to. The Boston Consulting Group (BCG) aptly calls the current AI revolution "a new order for business and society."
Here are some of the ways recruiters are currently using AI:
Screening and assessing candidates more precisely and efficiently and identifying those with the right skills and qualifications.
Performing boring or repetitious tasks such as interview scheduling and resume screening.
Creating clearer job descriptions that more accurately represent the requirements of the job and help attract the right candidates.
Using chatbots to search for information and engage with candidates.
Asking candidates better questions to make smarter hiring decisions.
Reducing the time to hire.
Increasing inclusion and diversity in hiring by removing human subjectivity and bias.
Customizing or improving compensation benchmarking.
Closing gaps among documents, writing better manuals, and standardizing processes.
Increasing fairness in hiring and improving candidate and onboarding experiences.
Freeing recruiters to provide a more personalized candidate experience with more interaction and engagement.
In addition to enhancing recruiting efforts, employers find AI an effective retention tool. AI can recommend learning and training opportunities and suggest career paths for current employees, aid in performance management, and identify employees who are no longer engaged or are at risk of leaving.
How to make AI human
Although people are generally more optimistic than concerned about the use of AI, there are questions in some minds, especially about the prospect of losing jobs to machines. It's true that switchboard operators or encyclopedia sales reps are a thing of the past. However, we still flock to phone stores, and humans are essential in writing and editing Wikipedia. It is tasks, not people, that become obsolete.
Organizations that try to replace people entirely with technologies like AI end up with unhappy customers looking elsewhere for better care. Customers and candidates alike want the efficiencies and convenience of technology but backed by a human being ready to listen and fix things when needed. Here are ways that AI and humans can augment each other:
AI performs tasks that people don't like to do, those that are unsafe or risky, or tedious and repetitive; humans monitor and validate AI's performance.
AI generates the facts and serves as the first step in analysis; humans generate new questions and solutions based on the facts.
Humans come up with ideas; AI refines and challenges their creative thinking.
AI collects data; humans turn it into stories that deepen understanding and connect to your company's purpose.
The ideal mix of machine and humanity is more of a management challenge than a technology or administrative issue. People at all levels must be upskilled or trained to use AI effectively and responsibly. Everyone in the organization should be educated on the benefits and pitfalls of using AI and understand the expectations around its use in your organization. Where and when is AI appropriate to use or not? When is human judgment required or desired? When should decisions be based on facts and when are compassion, empathy, and nuance important?
AI is a powerful tool for enhancing human capabilities, generating possibility, and achieving the full potential of people and organizations. It's not just a trend, it's here to stay. Leaders who evolve their thinking and adapt to this new technology are already outperforming their competition. Those who understand that nothing can replace humanity and continue to integrate it with AI will be unbeatable.