Make Your Workplace Work for Moms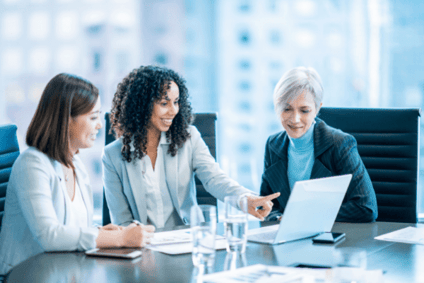 May is for Mother's Day and working moms are not happy. They are frustrated, stressed, and burned out. So much so that one out of three mothers are thinking about leaving the workforce or downshifting their careers, according to recent McKinsey & Company research. And many of the millions of women who left work during the pandemic have not returned.
Our lack of affordable, dependable childcare is an obvious reason for this exodus. Another is that mothers often choose to work in order to create a better life for their families, but few employers offer them the support to meet that important goal.
In most families, it falls to women to manage day-to-day household tasks and assume the emotional labor of caring for children, elders, family members with disabilities, and pets. Women are usually the ones who transport kids to and from school and after-school activities and stay home when kids are sick. They are the meal planners, shoppers, and errand runners, performing an endless list of responsibilities.
At a time when employers are struggling to find the talent they need, they risk losing some of their most valuable contributors—women. It's long past time to create flexible, supportive work environments that meet the needs of moms. Clearly, employers looking to convince women to return to the workplace need to develop specific strategies to help them succeed at work while balancing family obligations—with a little time left to pursue their own pleasures and interests.
But don't stop there. Offer empathy and compassion to all your employees. It's not just working mothers who are looking for family-friendly policies and benefits; dads, future moms, and anyone with a family they care about are demanding them too. Each one of us is a complex human who needs and deserves a loving leader.
Women Are Good for Business
Women offer more of what people are looking for from their employers today. Compared to men in similar positions, McKinsey finds that women managers spend more time promoting employee wellbeing, including support in dealing with burnout and managing both work and life challenges. Women leaders are twice as likely to spend significant time on development, equity, and inclusiveness (DEI), even when it falls outside their area of responsibility. And yet women are still seriously underrepresented in leadership positions.
Until recent years, the softer, more feminine traits like empathy and kindness weren't considered essential leadership skills. Now, we recognize them as vital characteristics in great leaders of both sexes. They are a key factor in recruiting and retaining top talent, and especially working mothers.
"Human-centric" leaders make employees feel valued and can bring higher returns on investment through reduced health care costs, lower absenteeism and turnover rates, and greater employee productivity and loyalty. The "feminine" skills are good for business.
Caring Means Going Beyond What's Required
Don't just go through the motions, give mothers (and fathers) generous paid time off for birth, childcare, and elderly or other care responsibilities as well. When you go beyond government requirements to create your own mother- and family-friendly best practices, it helps you attract and retain the people you need to grow and thrive.
In accommodating your moms, be kind, considerate, respectful, and flexible in meeting specific personal needs. When it comes to mothers, regulations should represent your floor, not your ceiling. Consider strategies like these:
Flexibility is high on the list of critical factors that entice women to return to work. Recent research from The Mom Project's WerkLabs finds that the average working mother doesn't want to be in the office more than two days a week. Wherever possible, find options for them to work from home (or anywhere) so they can support the people they love.
Federal law mandates that employers provide nursing mothers unpaid break time and a private space (other than a bathroom) for up to a year. Make them paid breaks. And don't put moms in a supply closet. Create a welcoming, easily accessible, pleasant space, preferably with a small refrigerator, sink, comfortable chair near an electrical outlet—and of course a lock on the door.
Other creative practices for developing a more mother-inclusive workplace are outlined in an honor roll of the "Best Places to Work for Moms" offered by Parents@Work. Their initiative is designed to help organizations recruit, retain, and support employees with kids. Following are examples of what some of the honor roll companies (from small to global) are providing:
Generous paid time off for parental leave, ranging from 8 to 26 weeks
Gender-neutral maternity leave to create balance for moms and dads
Return-to-work transition periods to get up to speed
Unlimited PTO and flexible work arrangements
Prenatal and postnatal coaching and local health partnerships
Concierge service to help access services and company benefits
Onsite daycare and childcare subsidies
Breastmilk shipping services
Financial and other support for adoptions, fertility treatments, and surrogacy
Backup childcare and eldercare
Telehealth access
Mental healthcare resources
Tutoring and college application coaching
The ideas are endless, as are the specific needs for accommodation. Ask your mothers (and dads) what they want from you and find solutions that are flexible, personal, and fair to all employees, including those who are not parents.
Job candidates and employees are looking at your policies to determine how mother-friendly and family-friendly your workplace is. We are all looking for wellness and success at work and at home. One depends upon the other.